How Shout! Factory Is Reinventing Retro Programming Online
While Shout! Factory got its start releasing retro DVDs such as Freaks and Geeks, its legacy goes back to the founders' days at Rhino Entertainment, where they pioneered the novelty and reissue music business. Now, they are applying their expertise in packaging and marketing to digital media.
Over the past four years, Shout! Factory has been taking classic films and TV shows and reintroducing them to today's viewers in new and unique ways that take advantage of what the digital medium offers. Initially, Shout! Factory took advantage of existing platforms such as YouTube. Over the years, Shout! Factory has expanded its capabilities by presenting unique video programming on Facebook, Twitter's Periscope, and Twitch.
In February 2014, Shout! Factory launched its own digital streaming brand, Shout! Factory TV. In addition to the website ShoutFactoryTV.com, which is available on desktop and mobile browsers (no app required), the service is also available on Roku, Apple TV, Amazon Fire, and Samsung Smart TV. There are also branded channels on Pluto TV, Twitch, Hulu, and Popcornflix, as well as a VOD channel on Comcast Xfinity. While the service is primarily ad-supported and free-to-the-consumer, there is a commercial-free SVOD service on Amazon Prime Channels in the US, Canada, and launching soon in the UK. Shout! Factory TV is also launching soon on Xumo and OperaTV, and continues to explore branded offerings on emerging platforms.
Most OTT services that offer retro TV and film simply put their content online and hope people come and watch. In general, they see retro programming as filler content, whereas Shout! Factory TV looks for ways to reinvent retro programming.
Mystery Science Theater 3000 Turkey Day Marathon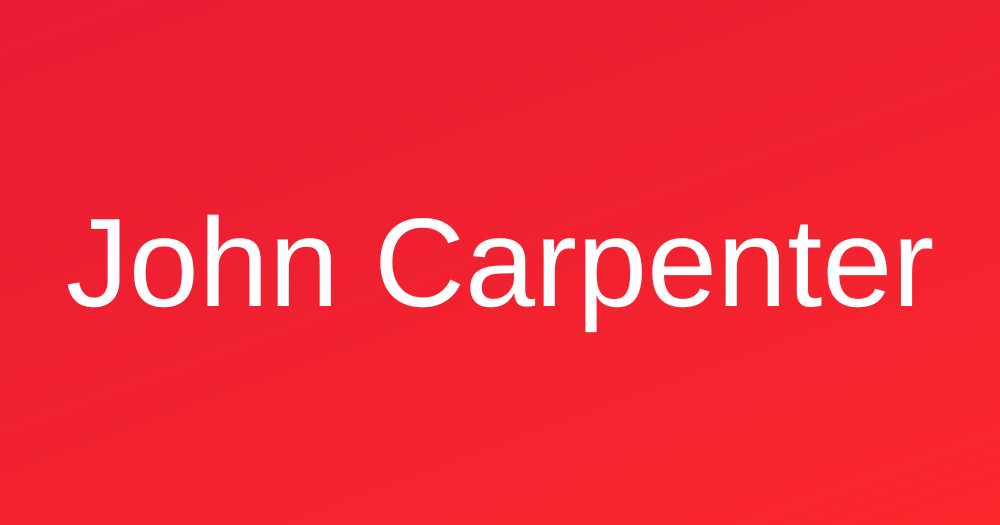 Shout! Factory's first major digital programming stunt was the 2013 MST3K Turkey Day Marathon. The MST3K Turkey Day marathon originated when the show aired on Comedy Central in the 1990s. Originally developed as a programming stunt for an audience that was not interested in watching football all day, the digital marathon continued this legacy with 6 hand-picked classic MST3K episodes with new host segments introducing each episode from series creator Joel Hodgson. Viewers interacted with comments via YouTube chat and via #MST3K. The viewership was considerably higher than expected and the number of comments was overwhelming. The event won the Cynopsis Digital Model D Award in the Live Show – Solo Event category, which contained high-profile entries including E! Entertainment – Live from the Red Carpet, and HBO – Game of Thrones Red Carpet.
With the launch of Shout! Factory TV the following year, Shout! Factory has run the marathon every Thanksgiving since. In 2014, the marathon was co-streamed on Shout! Factory TV and the MST3K channel on Pluto TV. For the 2015 marathon, new intro segments were shot from the Kickstarter headquarters coinciding with the Kickstarter campaign to #BringBackMST3K. That year, the stream was the most watched on YouTube on Thanksgiving Day. Also in 2015, Yahoo Screen presented an alternate version. In 2016, the marathon contained fan-voted episodes. Despite the fact that the episodes were all 15+ years old, the audience enjoyed the anticipation of which episodes would be featured. There were over 50,000 comments over 10 hours, with many indicating that interacting with the show's community was just as enjoyable as watching the episodes themselves.
As part of the Kickstarter campaign in 2015, Shout! Factory TV ran several nightly live screenings of classic episodes whereby former cast members participated in the chat. The campaign culminated in a livestream from Meltdown Comics in Hollywood —a telethon of sorts to close out the campaign. As the new season was being developed and marketed, Shout! Factory held several live events, including a Periscope livestream from Comic-Con International: San Diego and a live press conference featuring characters Tom Servo and Crow on the MST3K Facebook page.
Shout! Factory TV launched their channel on Twitch in June with a six-day marathon of classic episodes, bonus features, and shorts. This follows Twitch's past success with entertainment properties that include Bob Ross, Julia Child, Power Rangers, and Mr. Rogers. Not only can fans watch and comment, but are also able to use custom MST3K-themed emotes in their chat. The volume of chats was so great that Twitch likes to compare the experience to that of a live stadium performance with the crowd cheering and waving banners.
Godzilla, Power Rangers, and more
Following the launch of Shout! Factory TV in 2014, Shout! Factory looked to extend the marathon format to other entertainment properties. Tokusatsu, which refers to Japanese action, encompasses several well-known properties including Godzilla, Gamera, Ultraman, Ultra Q, Ultra 7, and Super Sentai, as well as the related properties Transformers (originated in Japan) and Power Rangers (derived from Super Sentai). Shout! Factory's strategy in originating these marathons was to create "virtual screening parties" so that fans could enjoy the films in a live event setting, with new content, and interact with other viewers. Within the Tokusatsu genre, a variety of formats and executions were utilized.
The Kaiju Monster Movie Marathon was a 24-hour livestream featuring 9 classic Godzilla films, select Ultra Q episodes, and select Ultra Seven episodes. The marathon contained hosted segments from world-renowned Kaiju expert August Ragone. Viewers watched on Shout! Factory TV and Pluto TV, and commented via #godzilla. The marathon also served as the launch event for the Shout! Factory TV channel on Pluto TV. To promote and encourage interactivity during the marathon, Shout! Factory created influencer kits to give to Godzilla super-fans. Shout! Factory and Famous Monsters created a social media event featuring a "Monster Brawl" bracket where monsters from the Godzilla movies were pitted against each other and Facebook fans could vote on who would win in a fight.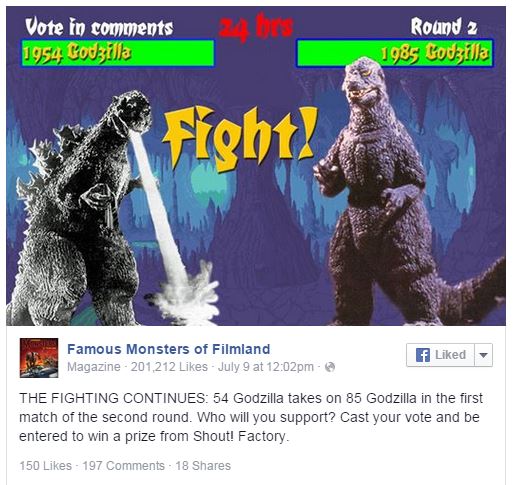 In 2014, Shout! Factory TV broadcast an 8-hour program live from Power Morphicon, a bi-annual Power Ranger convention held in Pasadena, CA. The program was hosted by Andre "Black Nerd" Meadows and contained interviews with talent and fans, a tour of the show floor, live panels, and bonus material from Shout! Factory Power Rangers releases. The live stream culminated with a live game-show format trivia contest. Viewers watched at Shout! Factory TV and on YouTube, and commented via YouTube chat and via #PowerMorphicon. Shout! Factory repeated the live event in 2016 to great success.
Power Rangers is based on the Japanese series Super Sentai, for which Shout! Factory held all North American rights. Shout! Factory began releasing each series on DVD starting with Zyuranger in 2015 and new releases 3 times a year. Roughly a year after the physical release, Shout! Factory released the series on Shout! Factory TV for VOD and kicked off the release with a marathon of select episodes. The marathons also contained additional livestreaming components—bonus features that contained a tutorial of the Super Sentai franchise, behind-the-scenes information, and the series' relevance to Power Rangers and pop culture today. Super Sentai Spectacular III – Kakuranger contained live roundtable discussions from geek-culture personalities between episodes, and live Q&A and polls with viewers via Twitter. The Super Sentai releases exemplify Shout! Factory's ability to maximize its value from both physical and digital distribution formats.
Scream Factory
Scream Factory originated in 2012 as an imprint for Shout! Factory's horror/thriller collection. In five years, it has become a multimedia brand with an extensive media following. Scream Factory releases are known for their unique cover art, new bonus material, and in many cases a new master or HD transfer. The special treatment of DVD/Blu-ray releases has served as the hallmark of a Scream Factory release.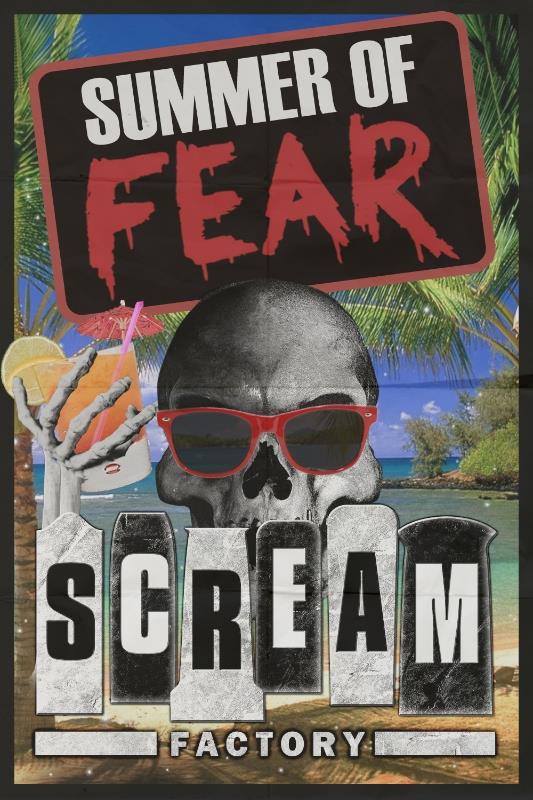 Scream Factory has applied the same special touches to digital, but in its own unique way. With program offerings such as Summer of Fear, Love is in the Scare, and Five Nights of Fear, Scream Factory utilizes the same care in presenting its titles as it has in the physical medium.
In 2014, Shout! Factory TV presented Summer of Fear, a livestreaming exhibition of three classic films, Assault on Precinct 13, Night of the Demons, and Witchboard, on three consecutive Friday nights themed to the 70's drive-in experience. The screening contained drive-in theater commercials and shorts from that era. After the film, the program contained all new interviews from director John Carpenter for Assault, director Kevin Tenney for Demons and Witchboard, and actress Tawny Kitaen for Witchboard. Viewers watched on Shout! Factory TV and on YouTube, and commented via YouTube chat and via #screamfactory.
In 2016, Scream Factory presented Love is in the Scare on Shout! Factory TV, a 12-hour marathon of heart-stopping shocks from seven classic horror films and a premiere screening of The Editor. The event served as a trip back to the early days of premium cable channels and their daylong presentations of classic horror. The marathon was livestreamed on Shout! Factory TV and Pluto TV, and viewers commented via #loveisinthescare.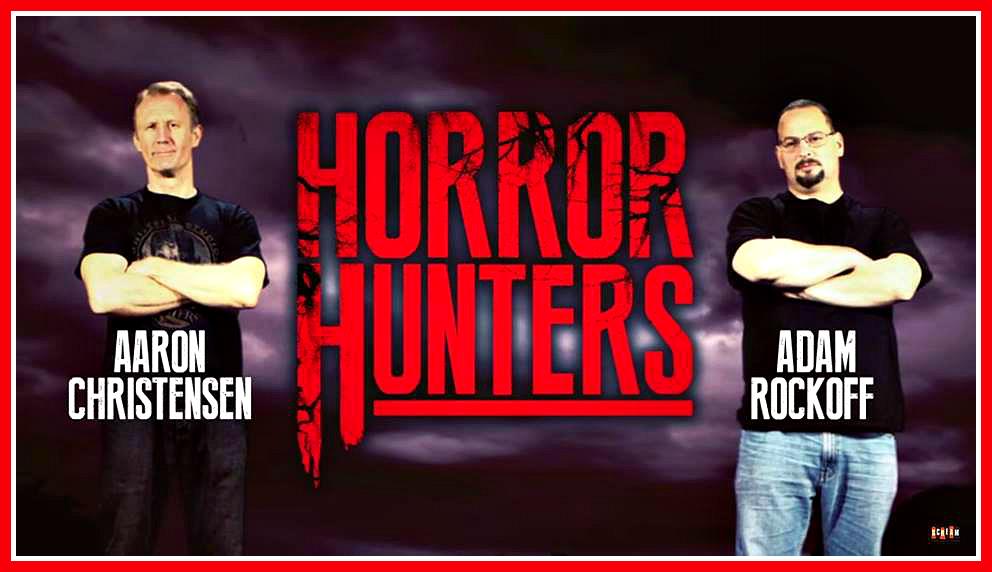 Also in 2016, Scream Factory piloted an original series, Horror Hunters, on Shout! Factory TV. The show features two horror collectors, Adam Rockoff and Aaron Christensen, as they travel across the country to check out horror memorabilia collections. The pilot premiered as a live stream where talent and viewers interacted via Twitter to get real-time feedback and answer questions. The series, which will potentially air on TV or through a digital streaming service, is currently in development.
A Work in Progress
As Shout! Factory continues to expand its distribution and content offerings, it continues to develop new and unique digital experiences to serve fan bases of established properties. Several other unique program offerings include:
VHS Vault – 3 installments, VHS Vault, VHS Vault 2: Revenge of the Cassette, and VHS Vault 3: Season of the Glitch. Shout! Factory packaged several cult films first released during the VHS era. The films were presented in their original VHS quality—grainy imperfections and all—to cater to a growing cult fanbase of the format. Shout! Factory TV also included a documentary, Adjust Your Tracking | The Untold Story of the VHS Collector, and A Real Job, a 2001 indie film set in a video rental shop. The stunt was a hit with both cult movie fans and entertainment press.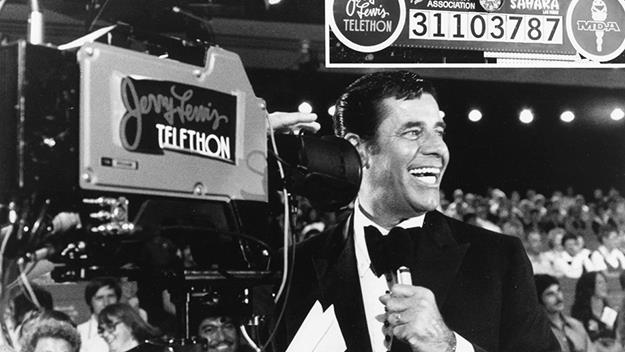 MDA Telethon Presents – The MDA, best known for their annual Jerry Lewis Labor Telethons, recently digitized the entire library of past telethons. In 2015, Shout! Factory partnered with this classic property for digital exhibition. To fashion unique packages from the large volume of content available, Shout! Factory created a new series, MDA Telethon Presents, containing iconic performances from the telethon themed in various categories, such as The Best of Classic R&B, Grammy Winning Artists, Masters of Magic, Best of Broadway, and Standup Comedy Showcase.
Pee-wee's Playhouse Sneak Peek – In conjunction with the 2014 Blu-ray release, Shout! Factory livestreamed the first episode from each season as a throwback to the Saturday morning children's programming era. The live stream showcased the newly re-mastered episodes as well as a video describing the unique challenges upgrading the program to HD. Viewers watched on Shout! Factory TV and on YouTube, and joined the conversation using YouTube chat and using #peeweesplayhouse. As part of the overall publicity surrounding the newly remastered series, Paul Reubens spoke about the Blu-ray and livestream during his appearance on The Tonight Show Starring Jimmy Fallon.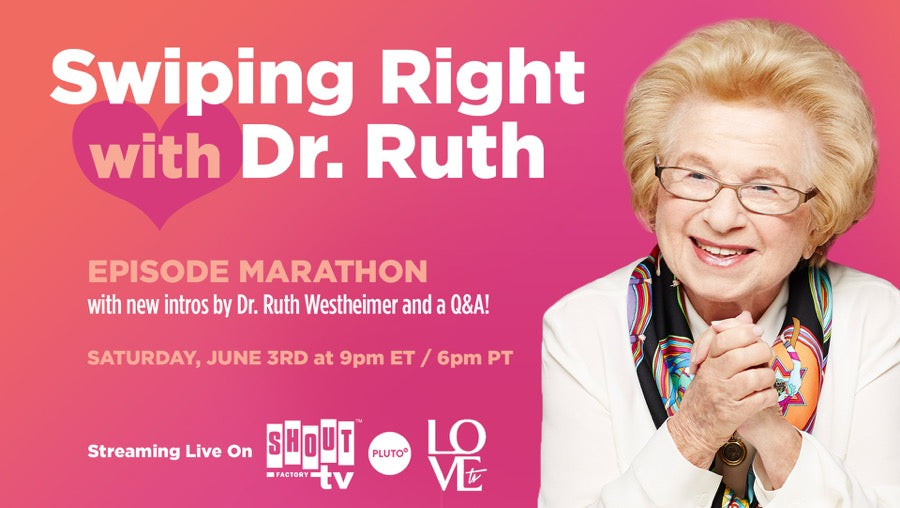 Swiping Right With Dr. Ruth – On Dr. Ruth's 89th birthday, Shout! Factory TV held a marathon of classic episodes from her show The Dr. Ruth Show featuring iconic guests such as Jerry Seinfeld, Burt Reynolds, Joan Rivers, and Richard Simmons. The marathon also featured new "Ask Dr. Ruth" segments where Dr. Ruth answered viewer question on today's sex and dating topics. Viewers joined the conversation and participated in real-time polls and quizzes using #DrRuth. Shout! Factory also partnered with Love TV, an emerging digital media company catering to female millennials, who live streamed the marathon through their Facebook page.
What's Next for Shout! Factory TV
As Shout! Factory continues to produce and license video content, it looks to maximize its value on all platforms—theatrical, television, physical, and digital. Each platform serves vital, yet different functions in the overall life cycle of a video property. While Shout! Factory continues to make licensing deals for marquee titles, having a branded outlet gives Shout! Factory a valuable alternative that can be used to further increase the worth of licensing deals.
Shout! Factory TV continues to apply its core expertise—packaging and marketing—to offer viewers a unique and compelling experience online by taking advantage of emerging digital features. Shout! Factory has embraced live streaming through YouTube, Pluto TV, Facebook, Periscope, and its own platform; community through chat, comment walls, and Twitter; and fan interaction and polling. It leverages its existing capabilities in release scheduling, packaging (artwork and bonus materials), publicity and influencer marketing, and digital promotion (paid and earned). Looking forward, as Shout! Factory TV continues to expand its distribution and reach, it will consistently look to apply its expertise to bigger and more popular properties.